Naval Glory Museum Opened in Kronstadt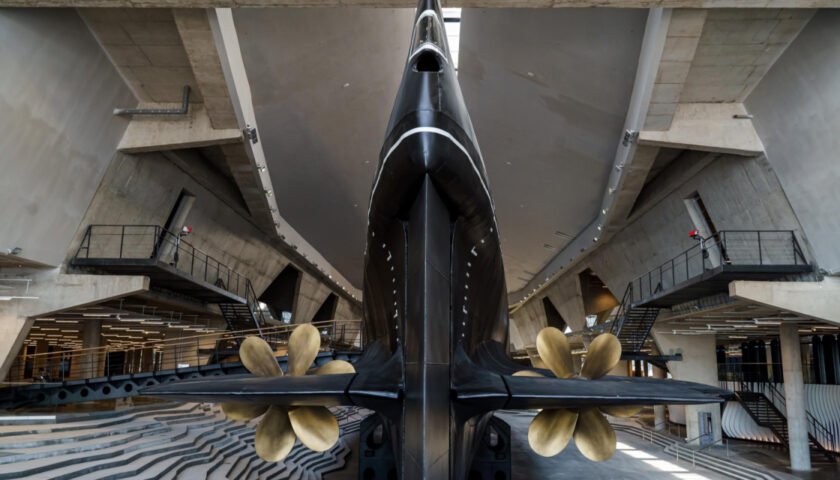 On the Day of the Russian Navy in Kronstadt, the opening ceremony of the Naval Glory Museum was held, the central exhibit of which was the K-3 Lenin Komsomol submarine, restored with the help of the United Shipbuilding Corporation.
The Naval Glory Museum – the central object of the cultural and educational complex of the tourist and recreational cluster created under the project « Fort Island » – was inaugurated on Navy Day.
The event was attended by the Governor of St. Petersburg Alexander Beglov, the Chief of the Main Staff of the Navy — First Deputy Commander-in-Chief of the Russian Navy Alexander Nosatov, First Deputy Minister of Construction and Housing and Communal Services of the Russian Federation Alexander Lomakin, Deputy Minister of Industry and Trade of the Russian Federation Viktor Yevtukhov, head of the project office for the creation of the tourist and recreational cluster Fortov Island Ksenia Shoigu, Deputy General Director for Innovative and Technical Development of OSK Vasily Boytsov, Navy veterans, representatives of public associations of military sailors, as well as enterprises and organizations that helped create a museum.
Kronstadt Marine Plant, SPMBM Malakhit, NIPTB Onega, software Sevmash (enter OSK), as well as the United Shipbuilding Corporation were awarded thanks to ANO Fort Islands for fruitful cooperation and a great contribution to the implementation of a unique relocation project, restoration and museumification of the most valuable monument of the history of the Russian fleet – the first Soviet nuclear submarine.