Minehunter Vlaardingen Joins NATO SNMCMG1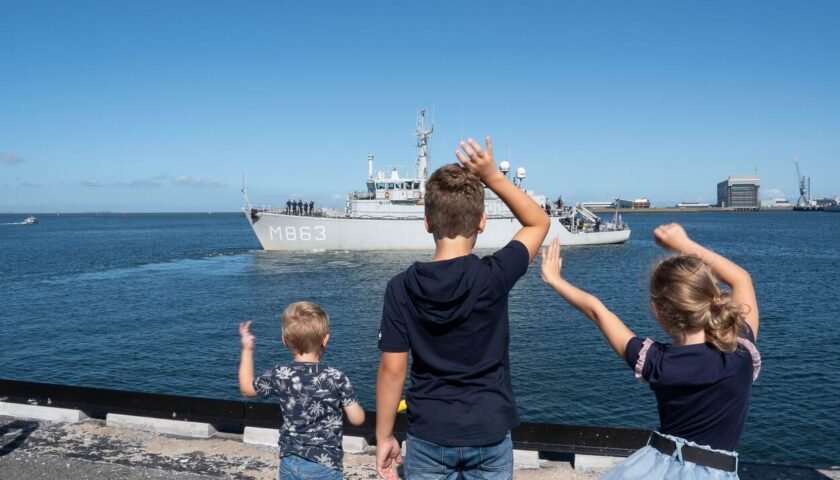 Vlaardingen left Den Helder August 20th to join the Standing NATO Mine Countermeasures Group One (SNMCMG1) for the next 1.1 months. This NATO fleet focuses, among other things, on the clearance of explosives in the Baltic Sea.
These include sea mines, aircraft bombs and other munitions from the First and Second World Wars. These explosives still pose a danger to merchant shipping, fisheries and the environment. Together with allies, Vlaardingen defuses as many projectiles as possible. In this way they contribute to a free and safe passage.
SNMCMG1 is part of the NATO Response Force. The Navy continuously supplies minehunters to NATO for rapidly deployable fleets. This allows the alliance to call on them directly for military operations.
Sandy Coast
Before the Vlaardingen goes to Eastern Europe, the ship first participates in the extensive international Sandy Coast. The Netherlands and Belgium organize this mine countermeasures and port protection exercise alternately every other year. This year Sandy Coast is for 2 weeks in the port of Delfzijl and parts of the North Sea and Wadden Sea.
In addition to Vlaardingen, numerous other naval vessels from Belgium, Canada (divers only), Germany, Finland, the Netherlands and Poland are participating. In total, more than 10 ships and about 500 soldiers come to Delfzijl. The exercise is an excellent opportunity for the international partners to exchange knowledge. This way they can prepare for deployment anywhere in the world.