INS Airavat Welcomed in Jakarta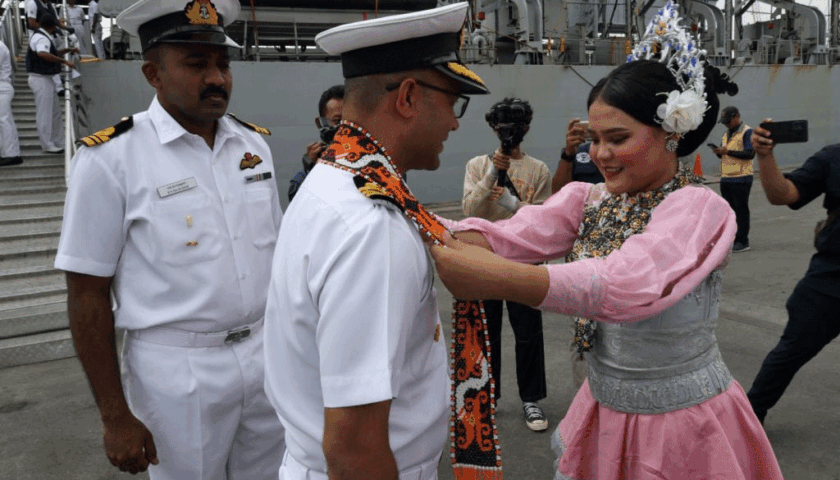 Commander of the Indonesian Navy Main Base (Danlantamal) III Jakarta Brigadier General TNI (Mar) Harry Indarto, S.E., M.M. represented by Assistant for Operations (Asops) Danlantamal III Jakarta Marine Colonel (P) Agung Nugroho, S.E., M.Tr.Hanla. welcomed the arrival of the Indian Navy Ships (INS) INS Airavat (L24) commanded by Commander Suman Saurabh Sharma at JICT pier 2 Tanjung Priok port, North Jakarta, Thursday (03/08/2023).
Commander of Lantamal III Jakarta in his remarks read by Asops Danlantamal III Jakarta said "Welcome to Jakarta, a great honor for the Indonesian Navy, especially Lantamal III Jakarta for this visit. As a strategic comprehensive partner that has close historical and cultural roots, this friendly visit is very important in order to enhance the naval brotherhood of the two countries, the spirit of navy brotherhood and can also enhance bilateral relations between the Government of Indonesia and the Government of India in various fields of cooperation both in the bilateral, regional, and multilateral scope".
Furthermore, Danlantamal III Jakarta said "As a tangible manifestation of solidarity and commitment to maintain close friendship between the two countries, the Government of Indonesia in May 2021 provided assistance to the Government of India in the form of 3,400 oxygen gas cylinders and 200 oxygen concentrator units in helping to deal with the Covid-19 pandemic. On the contrary, on July 24, 2021, the Government of India provided assistance in the form of 300 oxygen concentrators and 100 metric tons of liquid medical oxygen (LMO), and on August 24, 2023, provided assistance in the form of 10 ISO cryogenic tanks with a capacity of 20 metric tons of liquid medical oxygen to Indonesia to help handle patients in line with the surge in Covid-19 infection cases brought by INS Airavat (L24), and this time came to take back 10 ISO cryogenic tanks".
The Indian warship INS Airavat (L24) is a landing ship tank (LST/Large) warship with a primary role to conduct amphibious operations and is capable of carrying 500 troops, 11 tanks, 10 combat vehicles, and other military cargo. During his three days in Indonesia, he will carry out several activities that have been coordinated by the Indonesian Navy with the Indian Defence Attaché Captain Shiv Kumar, including open ships and city tours.
Also present at the event were the Indian Defense Attaché, Asintel Danlantamal III and Dansatrol Lantamal III Jakarta.