HMS Tyne Attends Cowes Week Royal Navy Day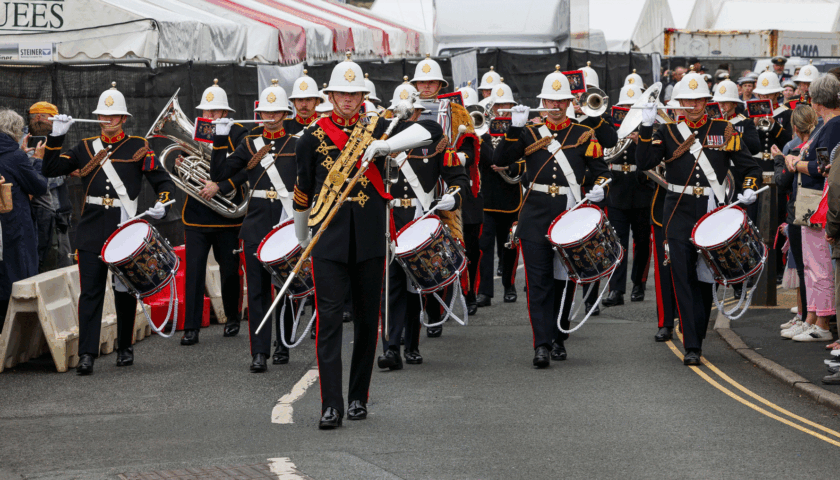 HMS Tyne attended the UK's largest sailing event, acting as guard ship for Cowes Week.
The Royal Navy patrol ship had the honor of attending the Isle of Wight sailing event and has been providing tours throughout the week.
The tradition of a warship mooring off Cowes for the regatta week comes from when a Royal Navy ship would attend to act as a guard for HMY Britannia which last brought the Royal Family to the regatta in 1997.
HRH The Princess Royal visited HMS Tyne for the Cowes Week Royal Navy Day, a day dedicated to the recognizing and honoring navy. Princess Anne spent time on board, meeting and spending time with the ship's company. She later attended the Royal Navy parade, which included a performance from the Royal Marines Band.
HMS Tyne is one of the busiest vessels in the RN Fleet, spending nine out of every ten days of the year at sea. As part of the Fishery Protection Squadron, her current operation is protecting the British fishing industry and safeguarding the nation's fishing stocks, but their sheer number of days spent at sea places them at high readiness for Search and Rescue ops and supporting the security, safety and defence of the UK.
Lieutenant Commander Hugo Floyer, Commanding Officer of HMS Tyne, said: "It was a great honour to host HRH The Princess Royal on board and a celebration that was very much enjoyed by the entire ship's company during our time as the Cowes Week Guardship.
"There's a long history between the Isle of Wight and the Royal Navy, particularly with the Royal Yacht Squadron.
"We're delighted to be here and spread the word of the Royal Navy, what we do, and support not just the racing but engagement with the town and everybody here."