HMS Spey in HCM City to Mark 50th Anniversary of Ties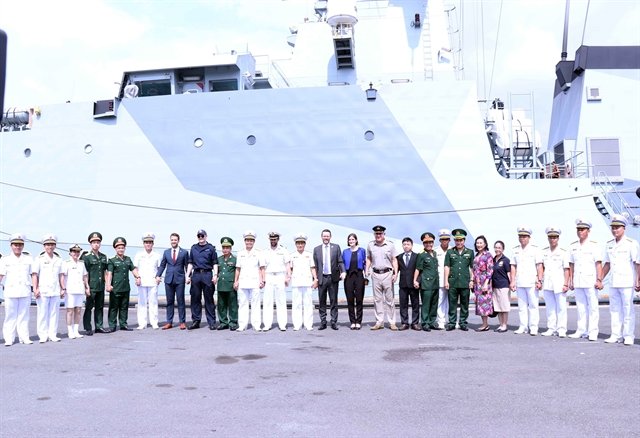 The UK Royal Navy's offshore patrol vessel HMS Spey, commanded by Commander Michael Proudman, docked at Nhà Rồng – Khánh Hội Port on Tuesday, beginning a five-day goodwill visit to HCM City.
This is the fourth Royal Navy ship to visit Việt Nam in the past five years, demonstrating the UK as one of Việt Nam's most persistent and reliable partners in maritime security.
"The visit of the HMS Spey to HCM City comes on the 50th anniversary of UK-Việt Nam diplomatic relations," British Ambassador to Việt Nam Iain Frew said. "This milestone marks half a century of friendship and cooperation between our two countries, of which security and defence are a growing part.
"The UK and Việt Nam share many common interests, including maritime security, sustainable development, and a desire to see our economies grow and trade more together.
"I am confident this visit will further deepen our strong relationship."
While in HCM City, officers of the ship are scheduled to pay courtesy visits to leaders of the HCM City People's Committee, the Command of Military Region 7 and the Command of Việt Nam People's Navy Zone 2.
The crew of the HMS Spey will also engage in various activities, including naval talks on board, a friendly football match with Vietnamese officers, and cultural exchanges with local communities.
In addition, HMS Spey will be welcome aboard a group of students from British International School HCM City who have excelled in STEM (science, technology, engineering, mathematics) subjects. This is a unique opportunity for the students to tour the Royal Navy's greenest ship and gain insight into the ship's navigation and engineering systems.
Commander Michael Proudman, HMS Spey's Commanding Officer, said: "This visit does not only represent an opportunity for us to intensify our collaboration with our Vietnamese counterparts but also underlines the UK's ongoing commitment to promoting global stability and security in the Indo-Pacific region."
HMS Spey is currently on a five-year operation in the Indo-Pacific region, joining forces with her sister ship HMS Tamar. During its recent patrols, the ship has also taken measures to combat illegal, unregulated and unreported fishing in the region.