HMS Audacious Completes Historic Mediterranean Mission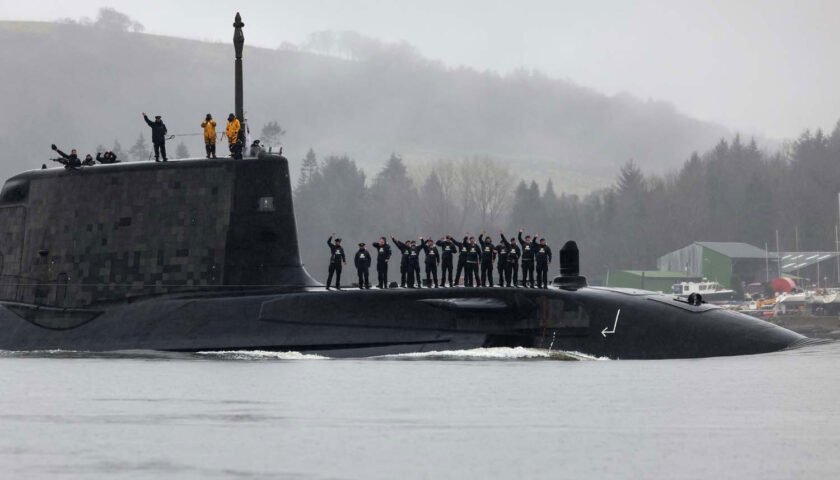 The conventionally armed Hunter-killer submarine, HMS Audacious was on operations for two days short of a year – a mammoth 363 days away from her base on the Clyde, making it the longest ever deployment for any of the Royal Navy's new Astute-class submarines.
While the submarine itself remained poised for operations in the Mediterranean, Audacious' submariners made the most of opportunities associated with planned maintenance and crew rotation, taking periods of leave and seeing family over the festive period.
Commanding Officer of HMS Audacious, Commander James Howard, said: "My ship's company have delivered an unprecedented period of success on operations.
"We have maintained a highly capable and silent nuclear-powered, conventionally armed submarine at high readiness for almost a year. In doing so we've operated at arm's length from the UK, providing support to NATO and exercising with partners in the region.
"This has also proved that the UK has the capability to provide a stealthy, flexible, and proportional response to any situation, should that need arise.
"We could not have achieved this without the support of our families, and I look forward to being able to release my ship's company for a well-deserved break at home."
In March last year, she sailed from her home at HM Naval Base Clyde at Faslane in Scotland to the eastern reaches of the Mediterranean in response to Russian aggression in Ukraine.
The boat had just completed Operational Sea Training – winning the Valiant Trophy for exceptional performance during her certification for front-line duties.
Audacious spent 95 days under NATO command as she supported the alliance's efforts to combat illicit activity, people smuggling, and illegal trade in the Eastern Mediterranean.
In all, Audacious was away from her base port for 363 days, proving the Royal Navy's newest nuclear-powered submarines are capable for deploying for extended periods without support – as per their design.
In addition to the year on patrol, the 130-strong crew spent nearly three months preparing for the full range of submarine missions – so it was an emotional return to Faslane for many as families were reunited with loved ones after Audacious' long adventure.
Some 150 family members and loved-ones gathered at Rhu Spit to wave to the vessel, before travelling on to HM Naval Base Clyde where they gave the crew a warm welcome home.
Keeping the submarine in peak condition for front-line operations during her grueling schedule has proved a challenge for the engineering department.
Operating thousands of miles from the support structures at the UK's home of the Submarine Service at Faslane, Audacious' engineers worked with specialist divers from the Royal Navy's Diving Threat and Exploitation Group (DTXG), working seamlessly with the UK's allies and partners who enabled access to base services and logistics support at the numerous ports visited whilst away.
At Christmas, many of the ship's company were reunited at home or with their families in Cyprus, with loved ones flown out with the assistance of the Royal Navy and Royal Marines Charity.
"It is difficult being out of contact during a deployment and not knowing where your loved-one is," said Helen Rouse who travelled with her family from Lancashire to Faslane to welcome son, Connor, home to the UK.
"Connor was deployed for the full 12-months except for a very brief period at home," she said. "He joined the Royal Navy in 2019 and quickly decided that the Submarine Service was for him, so he is doing what he loves."
Connor's dad, Stuart, joked: "I think it was the extra pay that swung it, but there's no doubt he loves it. He's made some good friends and when he was away I even had the chance to speak with the Captain on the telephone during one of their stop-overs. He told me how well Connor was doing onboard which we really appreciated."
The family were at Rhu to wave to the submarine as she passed.
"I shouted at the submariners on the deck that we were Connor's family and they shouted back to tell us he loved us," said Stuart. "It was a really special moment."
Several members of Able Seaman (AB) Owen Currie's family also made the journey to Faslane. His partner, Julie, and his dad, Paul, travelled from Cambridgeshire, while his mum, Debbie, and sister, Amy, travelled from Birkenhead. Also there were Owen's stepdad Paul, his stepson Harrison, and Julie's parents Brian and Lynn.
Amy, who has decided to follow in her brother's footsteps, has already applied to join the Royal Navy.
"I originally wanted to join the Army, but after listening to Owen and learning more, I have been inspired to try for a career in the Submarine Service," she said. "I am looking forward to Owen being home for a while and us doing some fitness training together to get me ready for joining HMS Raleigh."
Owen's dad Paul said: "We really missed Owen, and not having regular contact takes a bit of getting used to. However, it makes you realise how important and special the job is."
Mum, Debbie, continued: "I know I will cry when I see him and all I can think about is giving him a hug and telling him how proud I am of the job he is doing."
Only one submariner was deployed for the entire 363 days. Lieutenant Greg Johnston, the Navigating Officer onboard HMS Audacious.
He said: "Whilst I haven't been able to go home for a year, the Royal Navy brought my home to me in Cyprus, giving my family and I a Christmas we will always remember.
"The separation has been difficult, each time I'm able to video message them I can't believe how much my daughter has grown.
"However, the challenge of delivering this unprecedented period of operations is one that I will look upon with the satisfaction of a job well done."