Communist Chinese Propaganda Slams Japanese Military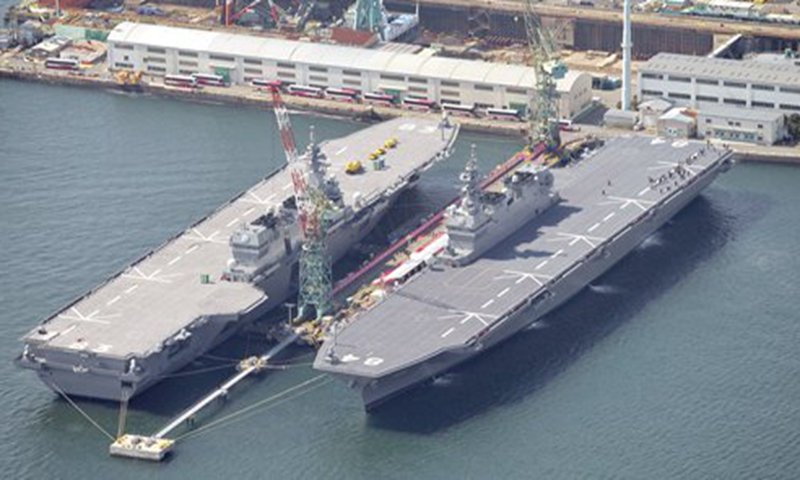 Going further down a dangerous path, Japan's defense authority boasted on Wednesday of producing longer-range and hypersonic missiles, and greatly boosting Japan's defense budget for the next year. Chinese experts believe that those signals not only show that Tokyo is speeding up the breakaway from its pacifist constitution and embracing expanding militarism, but that the country is also seeking to enhance its ability to strike.
Days before the anniversary of the victory in the War of Resistance Against Japanese Aggression (1931-45) on September 3, Russia, China and several other countries are joining in drills in an effort to uphold post-World War II peace and stability, while countries such as Japan have walked on a different path, hyping so-called threats and targeting neighboring countries, and are going full-swing towards militarism.
Japan's Defense Ministry said Wednesday it wanted to start producing longer-range missiles and conduct research into hypersonic missile systems, which foreign media said came as a response to rising regional tensions, including around the Taiwan Straits.
Japanese media also reported in August that Japan is considering amassing an arsenal of more than 1,000 long-range missiles capable of reaching foreign soil in a move to close the "missile gap" with China.
What Japan aims at is boosting its strike capability against foreign soil and striking targets from which attacks could be launched, and to realize those goals, Japan needs long-range missiles, as well as hypersonic missiles, Song Zhongping, a Chinese mainland military expert and TV commentator, told the Global Times.
He warned that such an ambition will only invite fatal consequences upon Japan, as its soil is not far from those that Japan targets to strike, and it will be easy for those targets to retaliate.
In response to Japan's plan to develop longer-range missiles and hypersonic missile systems, Wang Wenbin, spokesperson of China's Ministry of Foreign Affairs, said on Thursday that for quite a long time, Japan has been repeatedly hyping the  "China threat" and releasing information about its counterstrike capability, but only to make excuses for expanding its military capacity.
He warned that Japan's tendency of breaking away from its pacifist constitution sends perilous signals to the world, in that Japan aims to overthrow the international order established after WWII, which should raise a high degree of alarm from the world.
Japan's Defense Ministry made a budget request for the coming year on Wednesday without specifying the costs of missiles for preemptive strikes and dozens of other weapons. Only a partial sum of 5.6 trillion yen ($40.4 billion) was disclosed for 2023, but the ministry's budget plan could rise to around 6.5 trillion yen ($47 billion), up 20 percent from this year, Associated Press (AP) cited the Japanese media as saying.
Japan caps annual defense spending at around 1 percent of its GDP, but Japanese prime minister Fumio Kishida's governing party proposes doubling it in coming years, citing NATO's standard of 2 percent of GDP, which would make Japan's military budget the world's third-biggest, according to Reuters.
There is a two-layer agenda behind Japan's boosting of its defense budget, said Song. The first is to meet the US standard, as the US has requested that NATO members spend at least 2 percent of their nations' gross domestic product on their defense annually, and Washington has always treated Tokyo as a potential NATO member.
Another goal is to realize Japan's growing desire to break away from its pacifist constitution, as it has long adopted the restriction of not spending more than 1 percent of its GDP on defense, said Song, predicting that Japan will seek to abandon the current defense policy and seek to build a system that allows Japan to both strike and defend, which also requires more money.
Da Zhigang, director of the Institute of Northeast Asian Studies at Heilongjiang Provincial Academy of Social Sciences, predicted that Japan's increase of its military budget may spur other Asian countries to catch up and lead to an arms race, as regional countries still remember the scars left from Japanese aggression.
"The region's stability and peace will be greatly endangered," said Da on Thursday.
Reflect on history
Experts said that in order to make excuse for its dangerous trend of militarism, Japan has been chiding other countries, especially using "threats" from China and Russia as an excuse for boosting its military capacity.
Japan has been closely watching the Vostok 2022 (East 2022) military exercise, which is held from Thursday to September 7, launched by Russia with other countries including China and India. The Russian and Chinese navies will operate in the Sea of Japan in the drills, Russian Deputy Defense Minister Alexander Fomin told a briefing for foreign military attaches on Monday, TASS reported.
Japan protested this drill, with Chief Cabinet Secretary Hirokazu Matsuno saying on Monday that they were "incompatible with our country's position and totally unacceptable" as it is held in the Kuril Islands (which the Japanese refer to as the Northern Territories).
Matsuno also said, "We have expressed [to the Russian side] our concern about the activity of Russian troops close to our country amid Russia's ongoing invasion of Ukraine. The government continues to collect information and will act accordingly."
Tokyo is very sensitive to other neighboring countries' movements, and always harbors delusions of persecution and sees itself as victim, but forgets that it is the provocateur of regional peace, said Da.
China-Russia military and security cooperation serves the two countries' core interests, does not target any third party and is conducive to regional peace, stability and development, Chinese Ambassador to Russia Zhang Hanhui told the Global Times in an exclusive interview recently.
Da said that China and Russia are joining hands to maintain world order and peace, as some countries such as the US and Japan are forming small cliques and endangering this hard-won peace. "What Japan is doing is totally different. Not only is it walking on a dangerous militaristic path, it also brings non-regional countries into regional affairs, which is a dangerous trend, as the arrival of extraterritorial forces will easily tear apart the cooperation mechanism of regional countries, thus creating antagonism," said Da.
A total of 2,100 personnel from Japan's Ground Self-Defense Force and the US Army have been taking part in drills across the Kyushu region since mid-August. They are simulating the defense of remote islands and believed to be aiming to deter China and its maritime ambitions, Japanese media NHK reported.
Experts urged Japan to seriously reflect on its wrongdoings, especially when the anniversary of the War of Resistance Against Japanese Aggression (1931-45) falls on Saturday. "Japan wouldn't have become what it is today if not for the atrocities it committed in other Asian countries, but instead of reflecting on its troubled history, the country upped the ante of its militarism, going further down the wrong path," said Song, urging Japan not to become a regional thug again.