F-35 Surpasses 1,000 Fuselage Milestone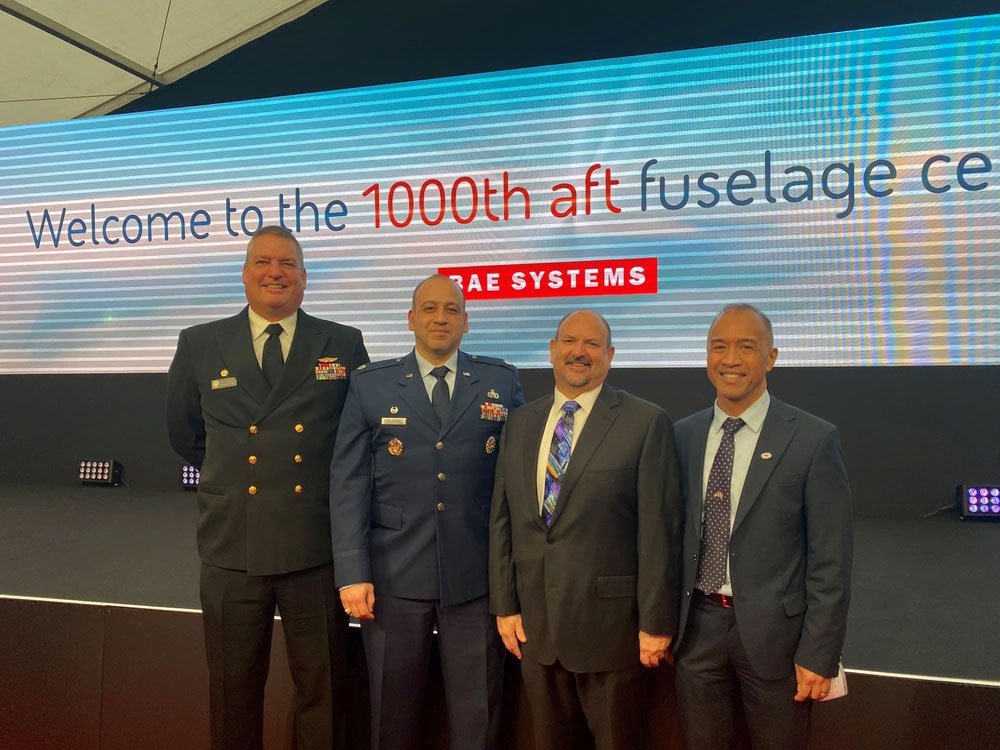 Defense Contract Management Agency International joined BAE Systems Samlesbury Feb. 7 in celebrating delivery of the 1,000 aft fuselage to Lockheed Martin for the F-35 Joint Strike Fighter — an aircraft the U.S. Air Force calls the world's most advanced multi-role fighter.
"This represents a major milestone in the program and an unbelievable accomplishment for the DCMA team," said Navy Capt. Nicolas Russo, DCMA International commander. "More importantly though, it showcases our ability to deliver the most advanced and capable products to our most important customers — the men and women in uniform relying on these weapon systems around the globe."
Henry Pandes, DCMA Europe deputy commander, Air Force Lt. Col. Oscar Palomino, DCMA U.K. commander, and Christopher Hall, DCMA U.K. Technical Operations director, joined Russo for a ceremony marking the accomplishment.
"Our continued dedication to the highest quality standards ensures industry partners deliver the best capable assets and components to our warfighters worldwide," said Palomino. "Delivering the 1,000th aft fuselage means the U.S. government will deliver 1,000 F-35s world-wide. This capability provides global security; however, these major efforts cannot be accomplished without the valuable members of DCMA U.K. Samlesbury and their partners."
The first aft fuselage was delivered to Lockheed Martin in 2005.
"The DCMA UK Samlesbury site has worked relentlessly with the contractor to recover from productivity losses resulting from the COVID-19 global pandemic and to ensure compliant, high-quality product is delivered to the Lockheed Martin assembly line in Fort Worth, Texas," said Russo. "This ceremony was special for many reasons, but ultimately a testament to the hard work and dedication of the DCMA team."