USS Charleston Makes One Night Visit to Trincomalee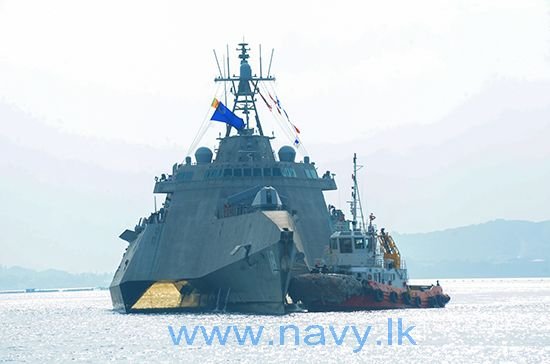 USS Charleston (LCS 18) of the U.S. Navy arrived at the Port of Trincomalee on the morning of 11th March 2023. Upon her arrival, the ship was welcomed by the Sri Lanka Navy in compliance with naval tradition.
USS Charleston is a 127.4m long Independence – Class Littoral Combat Ship manned by 100 crew members and the ship is commanded by Commander Lamson, A.A.
The Commanding Officer of the visiting ship called on the Commander Eastern Naval Area and Commandant Volunteer Naval Force, Rear Admiral Dammika Kumara at the Eastern Naval Command Headquarters on 11th March. During the cordial discussion, they exchanged views on several matters of bilateral importance.
Meanwhile, USS Charleston (LCS – 18) departed the island this morning (12th March). At her departure, the Navy bade customary farewell in accordance with naval tradition.