USS Paul Hamilton Conducts Port Visit to Diego Garcia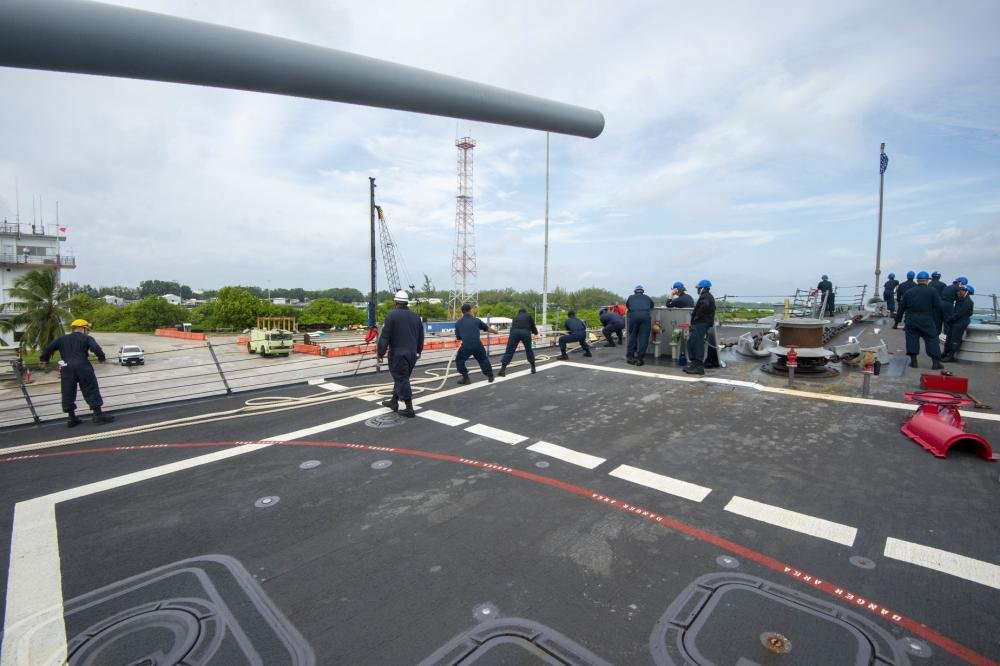 Arleigh Burke-class destroyer USS Paul Hamilton (DDG 60) conducted a port visit at U.S. Navy Support Facility (NSF) Diego Garcia, Feb. 11.
The visit underscored the strategic importance of Diego Garcia to an enduring free and open Indo-Pacific by enabling presence, assuring access, and providing defense to the global commons. Visits to Diego Garcia allow U.S. Navy warships to respond to critical areas in the Indo-Pacific, as well as enhances the longstanding alliance and friendship between the United Kingdom and United States.
"Diego Garcia serves as a vital location to the U.S. and our Allies, providing a layer of flexibility required to maintain security in the region," said Cmdr. Jake Ferrari, commanding officer of USS Paul Hamilton. "The ability to serve as a logistical hub for the U.S. Navy and our regional partners ensures our ability to respond to potential threats anytime, anywhere."
NSF Diego Garcia's mission is to provide critical support to U.S. and Allied forces forward deployed to the Indian Ocean, while supporting multi-theater forces operating in the U.S. Central Command, U.S. Africa Command, U.S. European Command, and U.S. Indo-Pacific Command areas of operations in support of overseas contingency operations.
Paul Hamilton departed the United States in January and arrived in the region as part of the Nimitz Carrier Strike Group. Paul Hamilton is operating as part of Commander, Task Force (CTF) 71, U.S. 7th Fleet's principle surface force. CTF 71 is responsible for the readiness, tactical and administrative responsibilities for forward-deployed Arleigh Burke-class guided-missile destroyers as well as any surface unit conducting independent operations in the region.