Colombian Navy Intercepts First Cocaine Submersible for 2023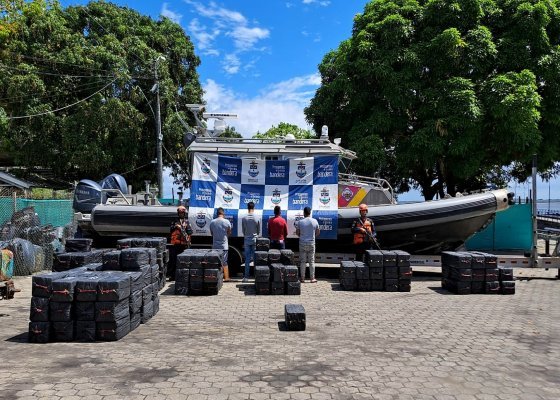 In the course of a maritime interdiction operation carried out by units of the Colombian Navy against drug trafficking, a semi-submersible type naval device was intercepted while sailing manned by four foreign individuals transporting four tons of cocaine. With this blow, the Pacific Naval Force prevented the trafficking and consumption of about 12 million doses of cocaine and the entry of more than 135 million dollars into the finances of drug trafficking structures.
In the maritime interdiction procedure, ships of the Colombian Navy, units of the Coast Guard, Naval Aviation and foreign support participated, which allowed to detect the illegal artifact, which at the time of initiating the registration began to enter water and to safeguard the lives of the crew, it was necessary to place them in the Coast Guard unit and initiate the process of evacuation of the material, Likewise, the entry of water was contained to transfer it to the Tumaco Coast Guard Station.
Members of the Technical Investigation Corps of the Attorney General's Office carried out the approved preliminary identification test – PIPH to the packages, which yielded positive for 4,025 kilograms of cocaine hydrochloride. The subjects will be prosecuted for the alleged crime of trafficking, manufacture and possession of narcotics.
With this interdiction and seizure, it is possible to decisively affect the finances of drug trafficking structures, reducing their logistical capacity to finance their illicit activities.
The Colombian Navy will continue to deploy all its operational capabilities to counter the criminal actions of drug trafficking structures that commit crimes in the Colombian Pacific, ratifying its commitment to the protection of the national territory and the well-being of all Colombians, while inviting the entire community to provide information that allows to avoid the illegal use of the waters under its area of responsibility. through lines 146 and 147 available 24 hours a day.