Embassy Staff Wowed by Warship Tour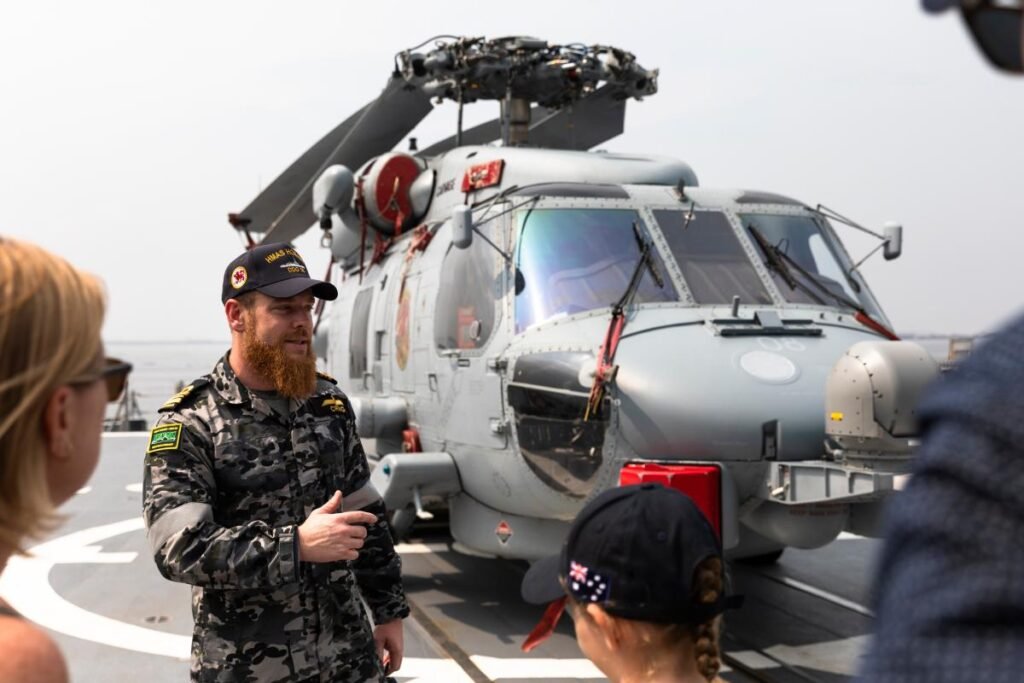 Staff members and their families from the Australian Embassy in Manila, Philippines, had the unique opportunity to tour HMAS Hobart while the ship was docked for Indo-Pacific Endeavour 22.
More than 50 people attended the tour, which included a helicopter, weapons display and explanation of how crews manage firefighting on the ship.
Australian Ambassador to the Philippines Ms Hae Kyong Yu said touring the ship filled her with a sense of pride.
"My family was over the moon at the opportunity to come aboard a Royal Australian Navy ship and have the captain explain the different elements," Ms Yu said.
"It was great to see first-hand what our ships are capable of doing, and how we can help ensure a peaceful Indo-Pacific region."
Hobart Flying Commander Lieutenant Commander Thomas Craig was one of the crew showing families the embarked helicopter.
"It was rewarding showing people the work we do on a daily basis with the capabilities we work hard to support," Lieutenant Commander Craig said.
James Yeomans, Political, Economic and Public Affairs Counsellor at the Australian Embassy, was present for the tour.
"We often hear when a ship is in port, but to have the opportunity to be able to see it first-hand is a wonderful occasion and helps us do our work," Mr Yeomans said.
"The wider embassy community really appreciates the chance to be here. Thank you to the ship and its crew."
HMA Ships Hobart and Stalwart will set sail for Tokyo, Japan, as the next country during Indo-Pacific Endeavour 22.
The activity includes five ships, 11 helicopters and nearly 1800 personnel, engaging with 14 countries from September 26 and returning to Australia by mid-December.