Google Translation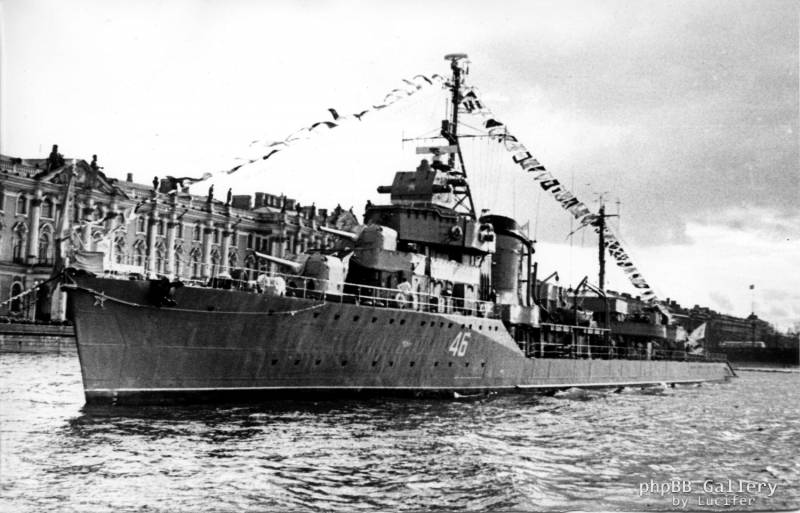 After reviewing comments on the first part, I would like to answer the first lines of a predetermined one of the readers the question: where is the night attack, torpedo fan and all that? The answer is simple. And none of this has not yet been in 1939. There was the battle of Narvik, northern convoys, the battle of Leyte Gulf, and many other events in which the destroyers participated directly. All this was to come.

The purpose of the article was to show that the level of development of shipbuilding and the level of understanding of the problems of the creators of the ship before the start of the Second World War.

The first battle of the war showed that shipbuilders like to put it mildly, do not quite understand who will be the main enemy of the sea. But the main and most terrible enemy, oddly enough, turned out to be an airplane.

USA.

Americans have experienced the hard punching power carrier-based aircraft, in fact immediately set about upgrading its destroyers. In the first article I cited data EM "The Sims." It also shows the data of the ships that followed the "Sims" in 1941-42.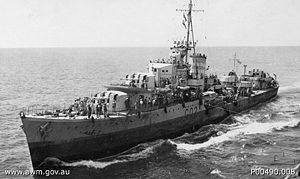 EM "Nestor"


And here it is worth noting that even the artillery and torpedo armament beginning to give way to air defense facilities and anti-submarine warfare. Judge for yourself.

EM "The Sims."
Artillery: 5 universal 127-mm guns.
Anti-aircraft weapons: 12.7 mm 4 machine guns.
Torpedo armament: four-pipe 3 533 mm torpedo tubes, 2 mortars, 28 depth charges.

EM "Benson" in 1939.
Artillery: five universal 127-mm guns.
Anti-aircraft artillery: six 12.7-mm machine guns.
Antisubmarine armament: 2 bomb releases (32 GB), bombomёt (10 GB).
Torpedo armament: 2 five-funnel 533 mm TA.

Destroyers "Bristol".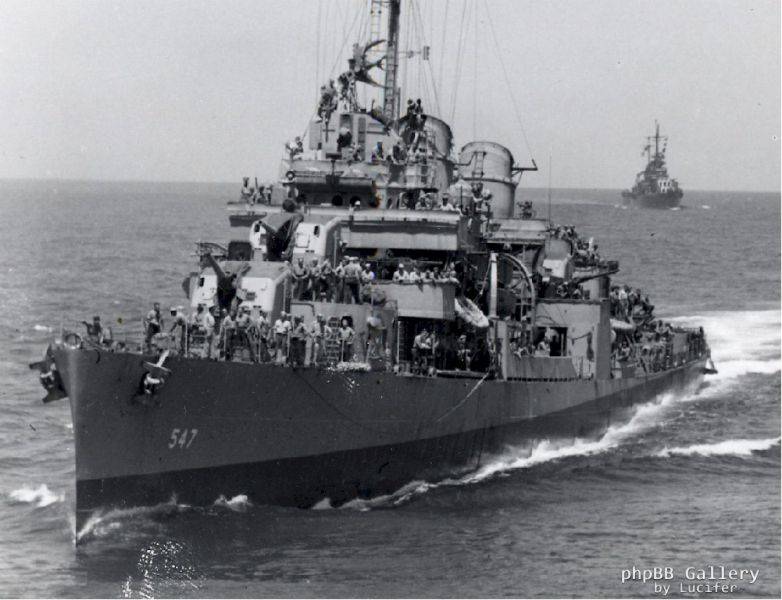 "Benson" and "Bristol" almost did not share, it is assumed that the "Bristol" – this is a subtype of "Benson." The differences between them solely in weaponry. Here, the difference considerably.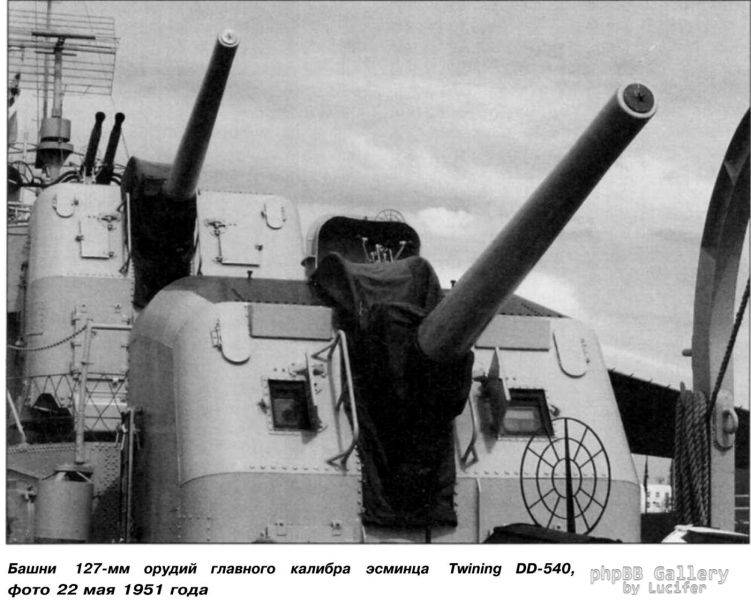 Artillery: 4 universalki 127 mm.
Anti-aircraft artillery: three options of weapons.

1) 6 to 20 mm machine;
2) 5 20 mm machines 1 and 28 mm quad machine ( "piano Chicago");
3) 2 twin "Bofors" 40 mm 4 20 mm gun.

Antisubmarine armament: 2 bomb releases (32 GB) and 6 bombomёtov (30 GB).
Torpedo armament: 1 five-funnel 533 mm TA.

As you can see, the Americans very quickly abandoned the one weapon and one torpedo in favor of the defense.

But that's not all. In 1944, 24 destroyer type were once more radically converted.

12 ships as part of the Atlantic Fleet and 12 as part of the Pacific. On the Atlantic ships were removed and a second torpedo tube artillery reduced to 3 guns, air defense consisted of 4 × 40 mm guns (2 × 2) and 7 × 20 mm machine guns. Ships received magnetic and acoustic sweeps. In general, it turned out something like an ocean trawler with a fairly powerful for ships of this class of weapons and long-range.

On the ships of the Pacific, on the contrary, anti-aircraft armament was strengthened to 8 × 40 mm guns (2 × 4) and 6 × 20 mm guns (2 × 2, 2 × 1). Place torpedo took another two mortars.

And I must say that these alterations have borne fruit. From the construction of 96 "Benson", "Glivzov", "Bristol" was sunk just 12. Of these 4 aircraft destroyed the ship, 5 destroyers sunk ships and artillery fire other 3 accounts for mines, torpedoes and other collisions.

And finally, the star of the American ship, the champion by quantity – EM "Fletcher."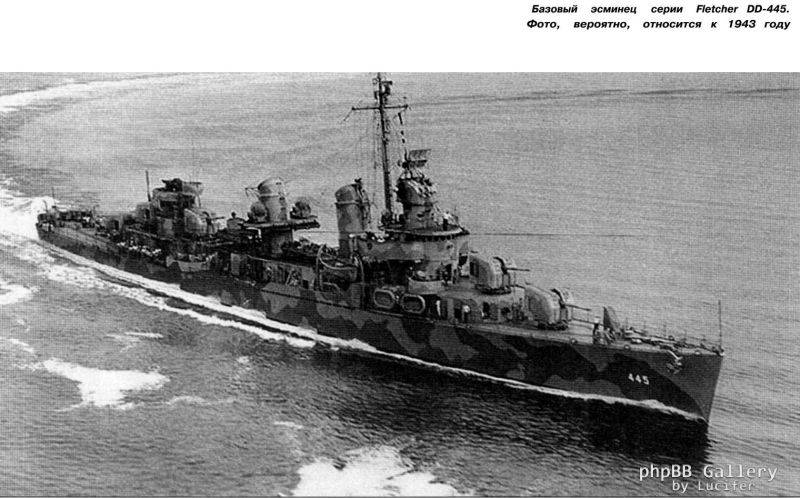 Since these ships were built "after", that took into account already occurred by the time the combat experience in their arms.

It should be noted that with the beginning of World War II, all agreements on limiting the tonnage of warships were quickly forgotten. Hence, the increased size "Fletcher" in comparison with the pre-war "Sims." 2924 tons full displacement versus 2477.

"Fletcher" has the following characteristics:

. Length – 114.8 m
. Draft – 4.19 m
There was a book of the deck above the engine room – 12.7 mm.
Speed – 38 knots.
Cruising range – 6,500 miles (15 knots), 1260 miles (30 knots).

Armament:
Artillery: 5 universal standard 127-mm guns.
Anti-aircraft artillery: 5 twin 40mm "Bofors", 7 × 20 mm "Oerlikon".
Antisubmarine armament 4 bombomёta, 28 depth charges.
Torpedo armament: 2 five-funnel 533 mm torpedo tubes.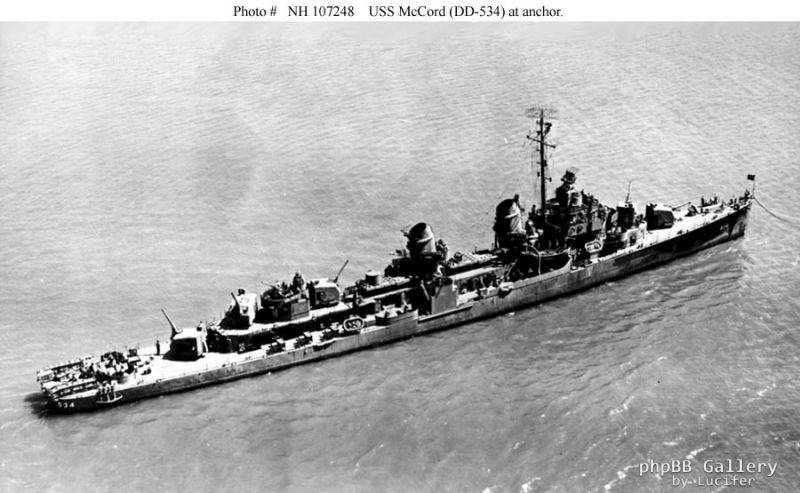 EM "McCord"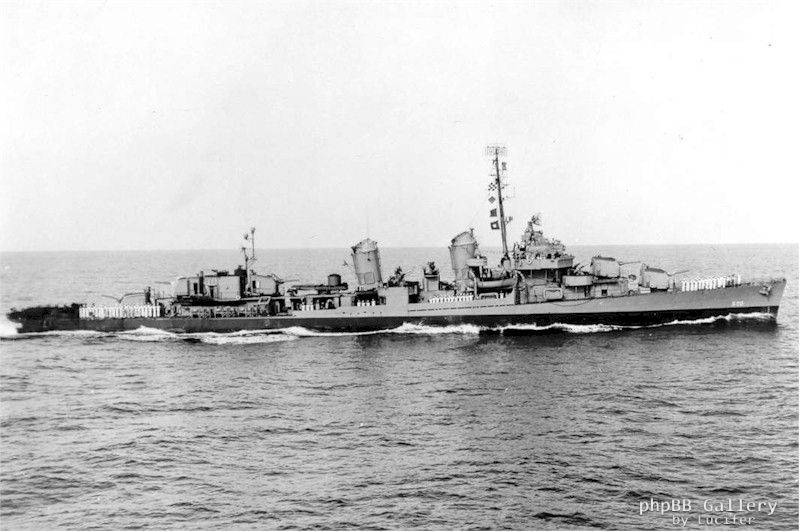 EM "Ashwood"


Of the 175 built destroyers during battles it lost 23 ships. In aviation, accounting for 7 units, artillery fire of other ships were destroyed 4 destroyers, mines and torpedoes submarine sank 11 ships, one was killed in the collision.

United Kingdom.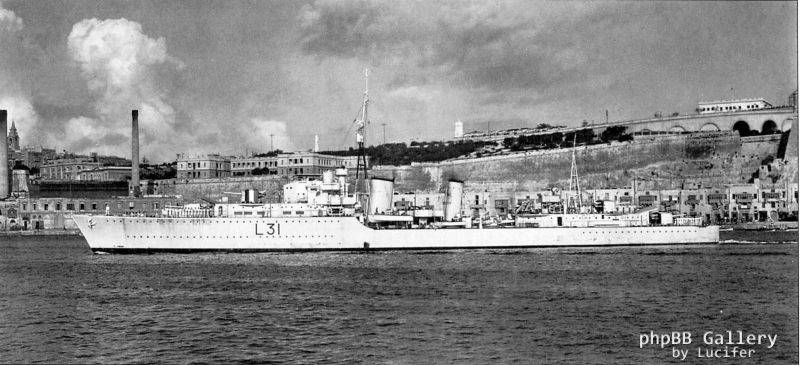 EM "Mohawk" in Malta


By the beginning of the war Britain had the largest fleet, including destroyers. The outbreak of hostilities with Germany and especially Japan showed that the British destroyers are not able to fight on par with the opponents. Incurred losses forced the Admiralty to start the development of new ships, more than meet the requirements of wartime.

It could be argued with some confidence that the British destroyers series O and P were head and shoulders above precursors, which were discussed in the previous article.

Displacement standard / full – 1540/2270 m.
Length – 105 m.
Draft – 4,1 m.

Speed max – 36.7 knots.
Cruising range – 3,850 miles to 20 knots.


EM "Eskimo"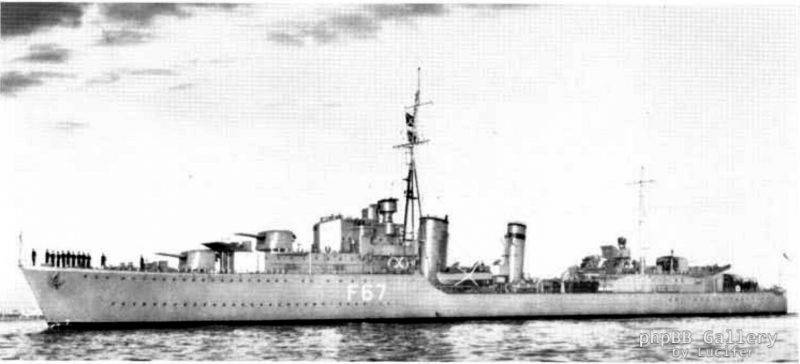 EM "Bedouin"


Not much differs from its predecessors in size, new destroyers began with one hand, quickly, on the other hand, significantly increased their arms.

Artillery: 4 universal guns 120 mm.
Flak:
1 102 mm cannon (including lighting shells).
1 Quad installation 40mm Mk.VII.
4 automatic 20 mm "Oerlikon".

Antisubmarine armament:
2 bombomёta 4 release gear, 70 depth charges.

Torpedo armament: 1 of four-TA 533 mm.

The situation is similar with the Americans. Minus one torpedo tube, minus the two-gun turrets, two bomb releases increased supply of depth charges are added.

In fact, many destroyers generally lost 120-mm artillery shells, which have been replaced by 102-mm anti-aircraft guns. Contact alteration was in 1945, when Allied aircraft gained complete dominance in the air.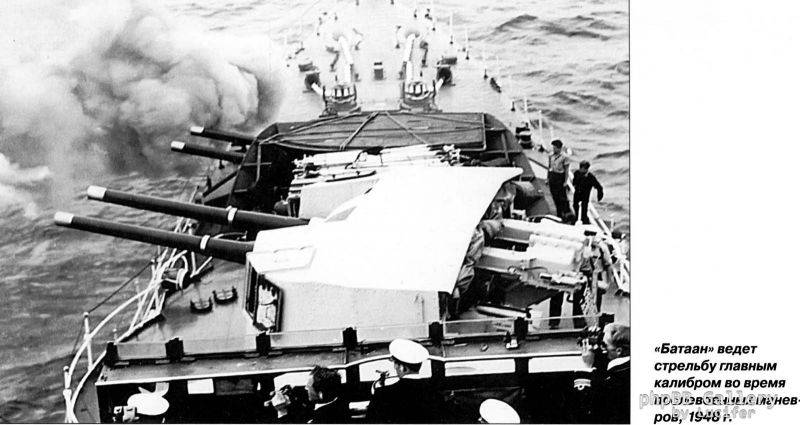 In addition, the British installed this and the subsequent series of destroyers not only sonars' Asdik "and radars. In addition to navigational radar "type 272" ships were equipped with radar "Type 285" and "291 type" is used to detect the enemy on the water and in the air and restore weapons.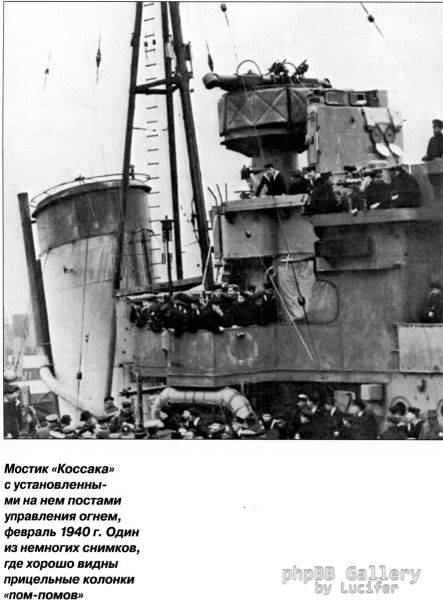 Losses among the destroyers of the aircraft were not such as that of the older generation. Of the 16 destroyers were lost only 4 of them air force 1 ship was destroyed, 3 others on account of German submarines.

In comparison, of the 24 "Jervis" was lost 14. Aviation sank 9 ships, artillery fire was destroyed 1 destroyer, mines and torpedoes and submarines were sent to the bottom 4 of the ship.

Germany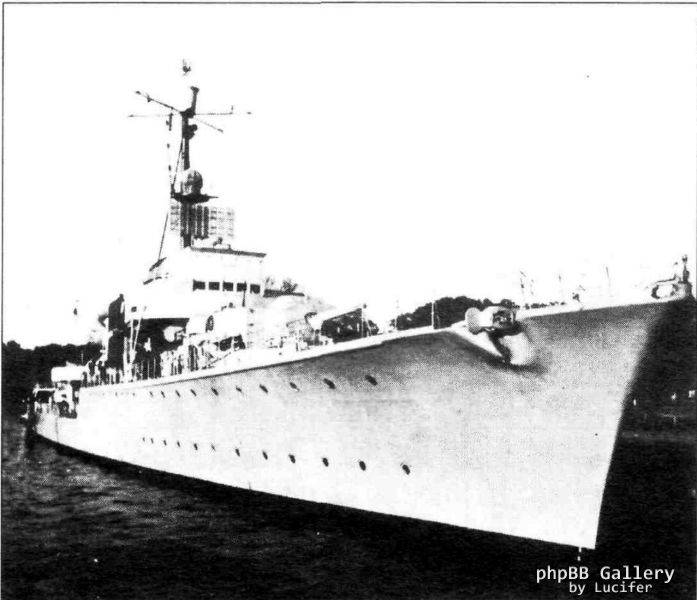 Z-EM 23


The outbreak of war in Germany promptly cease all work on the so-called "ocean destroyer" type in 1937 and returned to a successful type 1936, which was discussed in the previous article.

However, understanding the new conditions played a role in strengthening the firepower. The result was a transition to 150-mm artillery. Destroyers type 1936a did not get registered names and informally belonged to the type of "Narvik".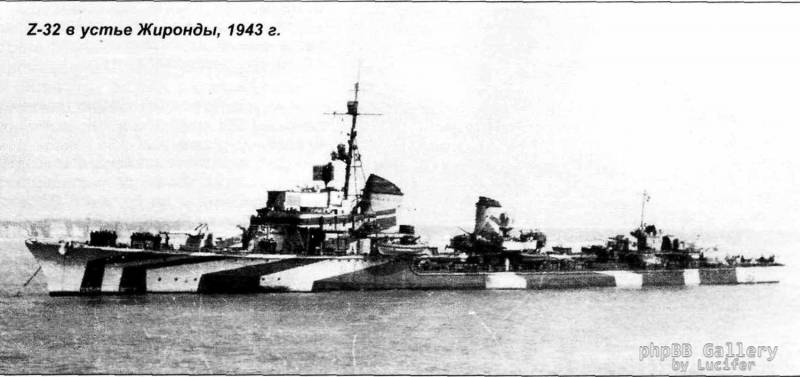 Displacement – 2603 m standard, 3597 tons total (data on the Z-29 and Z-30, all in / all EM varies somewhat, depending on the manufacturer, as constructed at different shipyards).

Length – 127 m.
Draft – 4,6 m.

Speed – 36-37 knots (on the Z-29 trial showed 41.2 knots)
Cruising range – 2239 miles at 19 knots.

Armament:
Artillery: 5 guns of 150 mm (2 in the tower, 3 single aft).
Flak:
2 x 2 mm 37 machine.
3 x 1 automatic 37 mm (on some destroyers number reached 6 (Z-25).
2 x 4 automatic 20 mm.
2 x 2 20 mm gun.

Antisubmarine armament: sonar «S-Gerat», 4 mortars (30 depth charges .)

torpedo armament: 2 four-pipe TA 533-mm, 60 min barrier.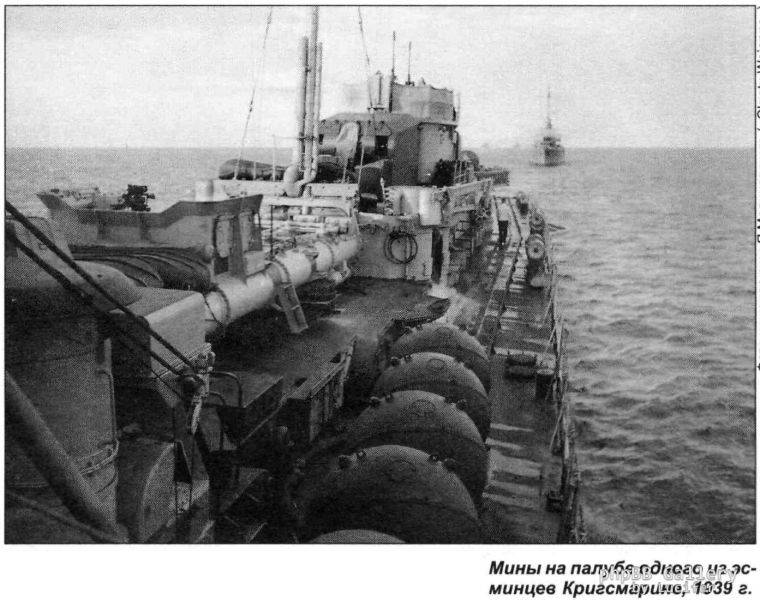 German destroyers in their characteristics closer to the leaders of destroyers, and compare them with the British and American colleagues easy. But it's worth noting that the loss of the aircraft they were significantly lower than those of their classmates. Of the 10 lost Germany EM this class aviation accounts for only 3. Another 3 were sunk in artillery battles by mines and sank 4 ships.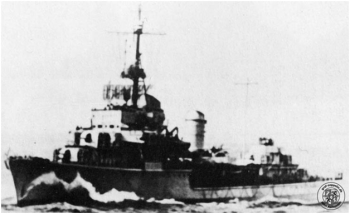 Z-EM 35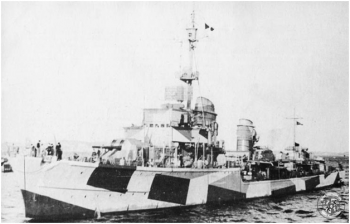 Z-EM 37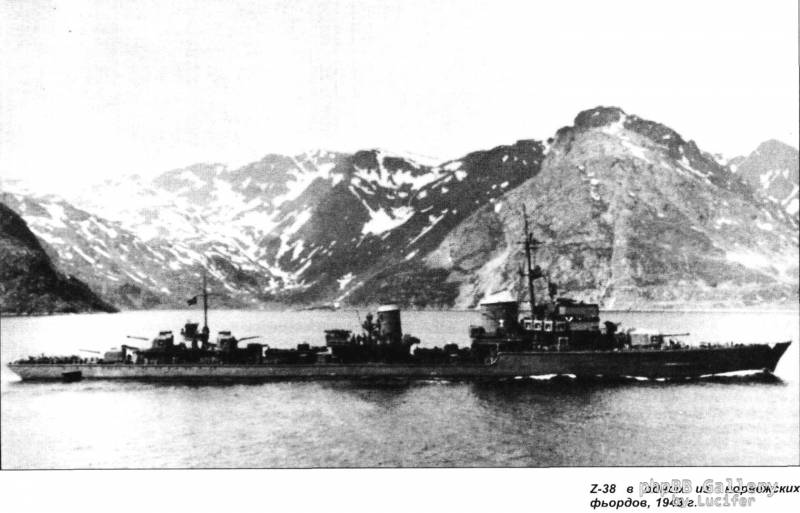 During the operation it became clear that the 150-mm artillery shells do not meet the requested specifications in terms of pitching, and the subsequent series of destroyers they were rejected in favor of a 128-mm guns.

Japan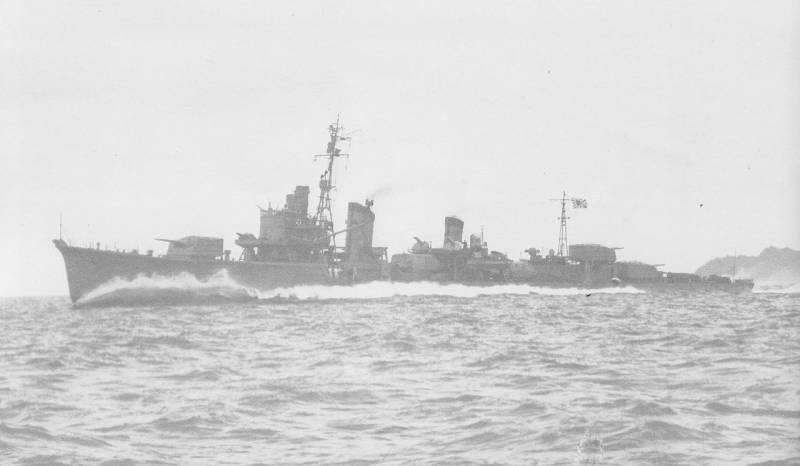 EM "Hamann"


Japanese shipbuilders went for a slightly different way, namely as planning destroyers ships torpedo and artillery attacks. the so-called "class A" or destroyers "Yugumo" series was developed. Practically, it was slightly increased in displacement "Kagero".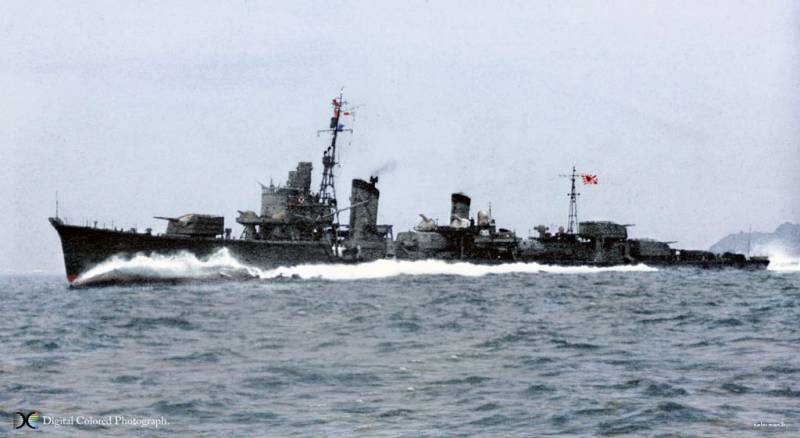 EM "Yugumo"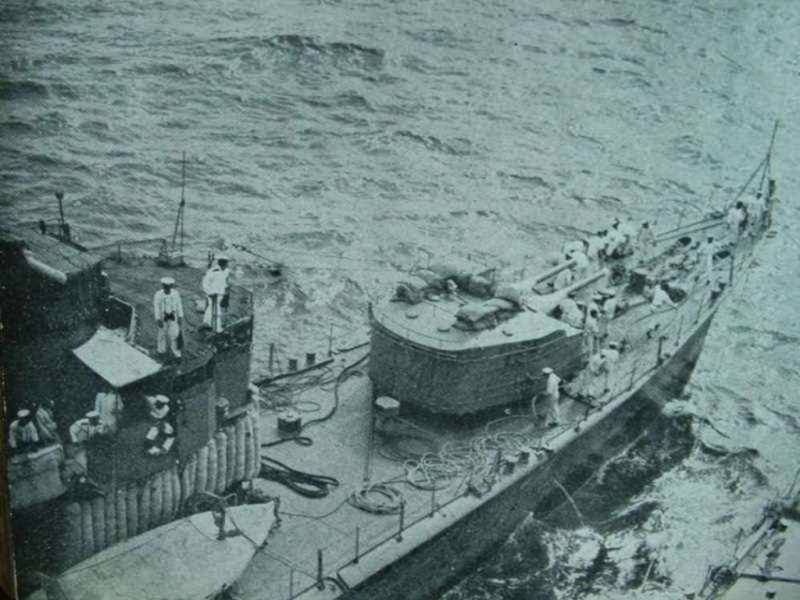 The nose of the EM "Yudashi"


Displacement – standard 2077 tons, 2520 tons total.
Length – 119.17 m.
Draft -. 3.76 m

speed – 35 knots.
Cruising range – 5,000 miles (at 18 knots).

Armament:
Artillery: six 127-mm guns in three turrets.
Anti-aircraft artillery: 4 automatic 25 mm.
Antisubmarine armament: 2 bomb releases, 36 depth charges.
Torpedo armament: 2 four-pipe TA 610 mm.

Frank weak air defenses to these destroyers forced Japanese shipbuilders dodge as soon as possible, up to the dismantling of one of the gun turrets and anti-aircraft installations, or "type 8" system caliber 127 mm, or 25 mm automatic triple. As a result, the number of shafts 25 mm EM type "Yugumi" was brought to 28. What should be noted is not very helpful in general.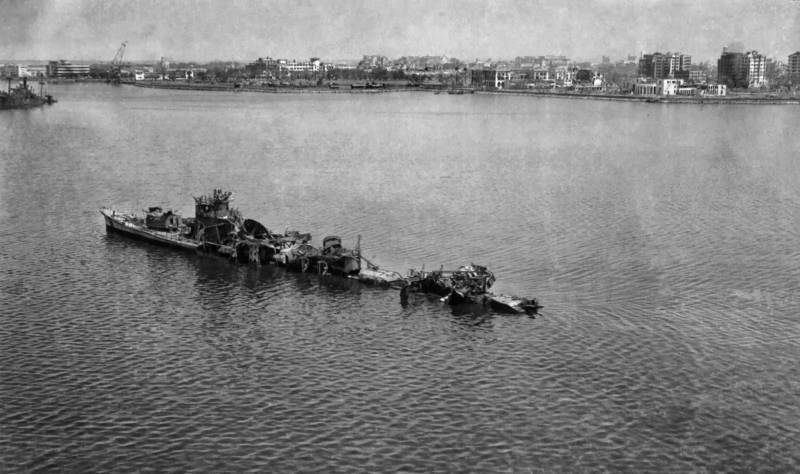 EM "Akishimo", 1944
EM "Okina", 1945


Of the 19 lost ships aircraft sank 9. 4 destroyers were sunk by gunfire, 6 killed by mines and torpedoes.

the USSR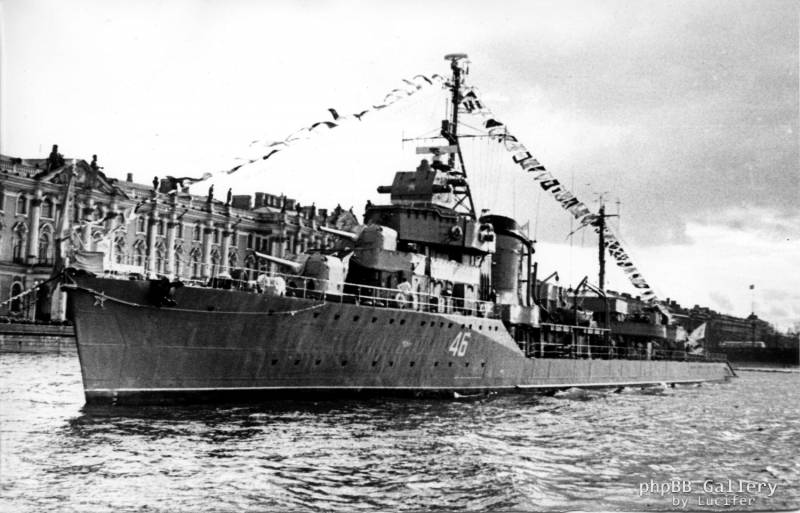 EM "Loud", Marine Victory Parade 1945


Soviet destroyers also changed, but not so significant. 7 History of the project, which had to redo the project 7U known. As the ship's machine remained the same, the speed and seaworthiness is not actually changed. And the weapons remained at the same level.

The distinctive feature of "sevens" was just a very weak anti-aircraft weapons. From the analysis of the combat experience of the Soviet destroyers can make interesting conclusions. Some of the ships (in the Pacific) did not fight at all. If we take all fought Project 7 destroyers and 7V (because it's actually the same thing), we get a figure of 36 ships. Of these, 18 were killed Exactly half.

A distribution pattern is slightly different than the Germans or Americans. 9 destroyers destroyed planes, 8 were killed by mines and torpedoes, and 1 ( "Sledgehammer") was destroyed by the storm.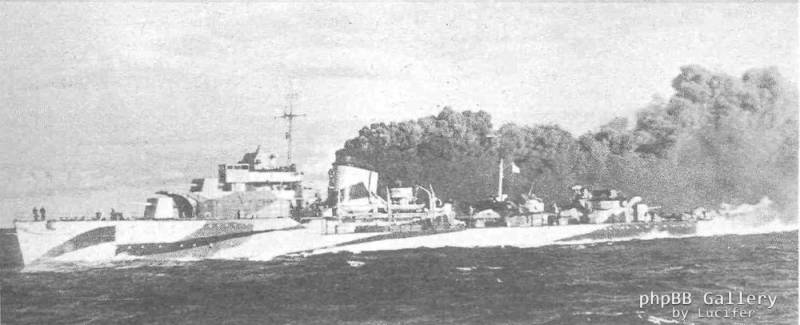 EM "Gremyashchy"


Definitely, to compare casualty figures can not be so simple. Let's start with the fact that the Black Sea and the Baltic destroyers had no opponent. Absolutely. The only battle between the major surface ships occurred in the Northern Fleet. And the tasks that were assigned to the destroyers, does not include any pre-war plans. As an example, the evacuation of troops from Odessa and Hanko, or delivery of goods to the besieged Sevastopol.

Although some increase in air defense still was.

Artillery defense on the "sevens" consists of 2 76-mm guns, 2 × 45-mm semi-automatic guns, and 2 machine gun DSK 12,7 mm.

Destroyer project 7U 76-mm anti-aircraft guns remained, but instead of 45-mm guns stood four 37-mm automatic anti-aircraft gun 70-K. A two DSHK and added two paired 12.7-mm machine gun "Colt-Browning."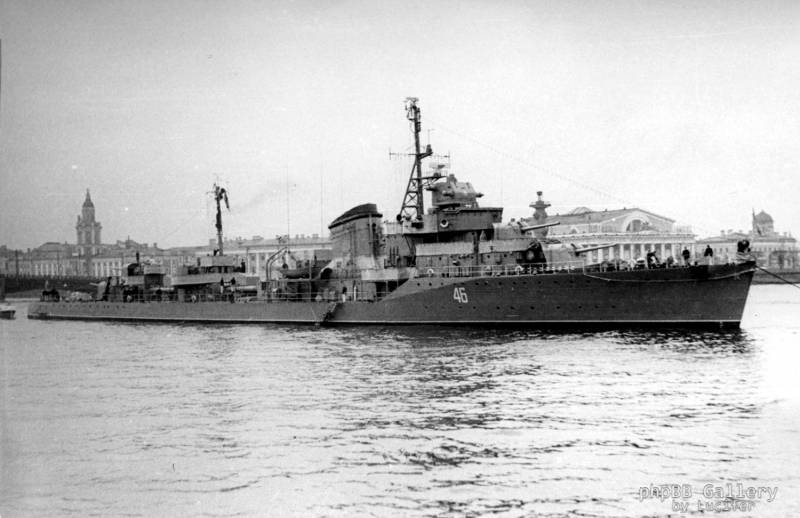 The most powerful anti-aircraft weapons in the war was the Baltic "Threatening" four DShK, four 37-mm machine gun and three 76-mm guns.

Alas Sparsely. But…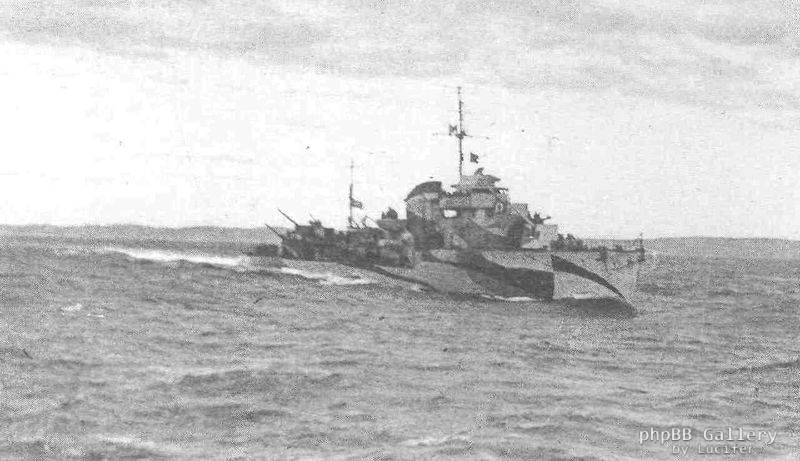 It is worth noting that during the war in the destroyers "project 7U" started to install radar. As obtained under the Lend-Lease Act, and domestic production. English Radar type 286M, 291, US SF-1, SL, and our "Gyuis-1." Several ships experimentally established British fire control radar type 284.

Sonar equipment consisted of hydrophones "Mars" and hydrophone underwater communication "Arcturus". During the war, the ships began to establish English sonar "Dragon-128c" (or "Asdik").

As a result, we can say that World War II was the factor that finally formed a class of destroyers, and turned them from auxiliary ships, whose main task was to fight the destroyers in the class of universal ships that can carry out, in modern terms, the functions antiaircraft and antisubmarine .

Unlike their older colleagues battleships, destroyers battle with aircraft are not lost, and become a worthy opponent for the aircraft. And far from being the most desirable target. A sonar equipment development turned destroyer in the most formidable enemy submarines.
This is what can be explained by the fact that after more than 70 years destroyers are the main shock is not aircraft carriers in the navies of the world. Battleships have long ceased to exist, having lost missiles and aircraft cruiser slowly go down in history after the "masters of the seas", and destroyers destroyers … continue their service.

In the following article, as requested readers, we analyze in detail a few battles of World War II, where the destroyers have played a major role. And yes, there will be a lot of artillery duels and torpedo attacks. Including night. Sources: Balakin SA "Gremyashchy" and others. Destroyers of the project 7. Dashyan AV Ships World War II. Royal Navy. Part 1. Destroyers. Rubanov OA destroyers of England in World War II 1925-1945 gg. Part 1 Patyanin SV Morozov, M. È German destroyers World War II. Demons sea battles. Patyanin SV destroyers and destroyers of Japan 1879-1945 gg. Conway's All the World's Fighting Ships , 1922-1946.









Author: Roman Skomorokhov topwar.ru